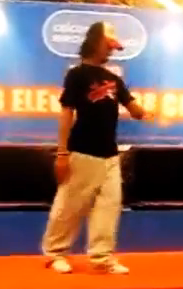 Ajam aka The Gambler is in the crew HR aka Hardstyle Republic, which is most notably known for making shuffling huge in the Phillipines. Ajam is more of a controlled-stamina-defense style, which includes alot of switching hand movements and no wild moves and he can choose whether to defend and also including a smooth running man. This type of style makes it easier for Ajam to keep going during songs and small build ups with his included hand movements. He doesn't have any huge finishes, but his hand movements make up for it. He usually wears bandanas and sometimes can be seen dancing in flip flops. Ajam is a well liked hardstyle republic person, his moves are effortless in the eye of the crowd. Hardstyle Republic and Ajam are known for their stamina dancing and more pro related dancing because they are pro, they do some fun slow performances and they also have their own unique style that attributes to each person.UBE Genesis' style is more closely related to Ajam because of his hand movements though Ajam has more control and Genesis is a little more toward aggressive, though every dancer has their own unique styles.
Looking up some videos of him, it turns out Ajam's career right now might be singing.
Community content is available under
CC-BY-SA
unless otherwise noted.