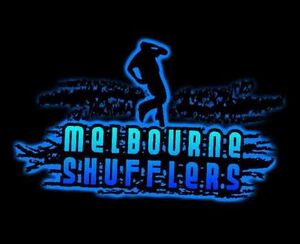 Welcome to the one and only MelbourneShuffle Wiki!
We hope you enjoy this positive experience and hopefully contribute to the wikia when you have time and there will be more updates and projects in the future so stay tuned! To make an article all you have to do is register, this keeps the community together and keeps the negativity away. 
We are also in the process of looking for Moderators to take care of this Wikia as we know this is a big project and we cannot do it alone, we need your support!
Shufflers who cause problems will not be featured on the wikia because it just creates a bad vibe and promotes negativity and that's not what shuffling is all about.
For all business inquiries or ideas to add to the Melbourne Shuffle Wikia you can reach the Founder at MelbourneShuffleWikia@gmail.com 
For more information on Shuffling Crews see -->List of Shuffling Crews
For more information on Melbourne Shufflers see -->List of Melbourne Shufflers
Some of the music forms, events, history and dancers that contribute to the Melbourne Shuffle. Please contribute towards the content, this page is very new and we need to expand it! Please be sure to put some new Shuffle crew or shufflers, as it gives them a chance to be noticed, and for people to read more about their favorite shufflers and the contribution they make to this!
This Wikia was made with the intent so that this could be a database of shufflers from all over so people could learn more about their favorites or some of the ones they don't know and some of the ones who have impacted the shuffling community. 
For more information on Shuffling Styles see --> List of Shuffling Styles
Describe your topic
Write a description about your topic. Let your readers know what your topic is about and add some general information about it.
Latest activity
Community content is available under
CC-BY-SA
unless otherwise noted.